Few of us are excited by the idea of taking headshots. They bring to mind ideas of baggy suits, shoulder pads and some guy with a lot of lights pointing at you saying "smile!" Fear not, this is not what I am talking about, I am talking about an intentional portrait that is crafted with you, to showcase your professional ability and expertise, your authentic self. I want you to consider the headshot as a visual resume, does it make you say wow or woof? Now a little test, pull up your LinkedIn photo and describe what you see in single words, have your colleagues do it too, are those the words you associate with yourself? If the words were something different than you were expecting you should step back and consider what was your last headshot experience, was there an intentional image discussed and created, or was it just a passing opportunity? If you're like most of us it was a passing opportunity or an immediate need that was solved with the cheapest, easiest option. I'm here to tell you there are better options out there, and you need to take advantage of them.
"Recruiters are spending as much as 19% of their time looking at that profile picture"
There are only a select few of us that can rely on our name alone, until then you're going to have to bid on jobs, apply for jobs and get by some form of gatekeeper. Research from TheLadders suggest that recruiters are spending as much as 19% of their time looking at that profile picture, and that could be 19% of about 6 seconds depending on the field and location you are working in. We are part of a global community of resources where geographical boundaries are of little concern, opening up the world of employment to the entire globe, so why would you shoot yourself in the foot by taking a back seat with your headshot? At this point you're probably thinking 1. That no one can make a judgement that quickly and that accurately, and 2. I use my network/am past working with recruiters, or just plain don't need all that new online stuff, well read on.
"It only takes 100 ms to form a judgement from an image"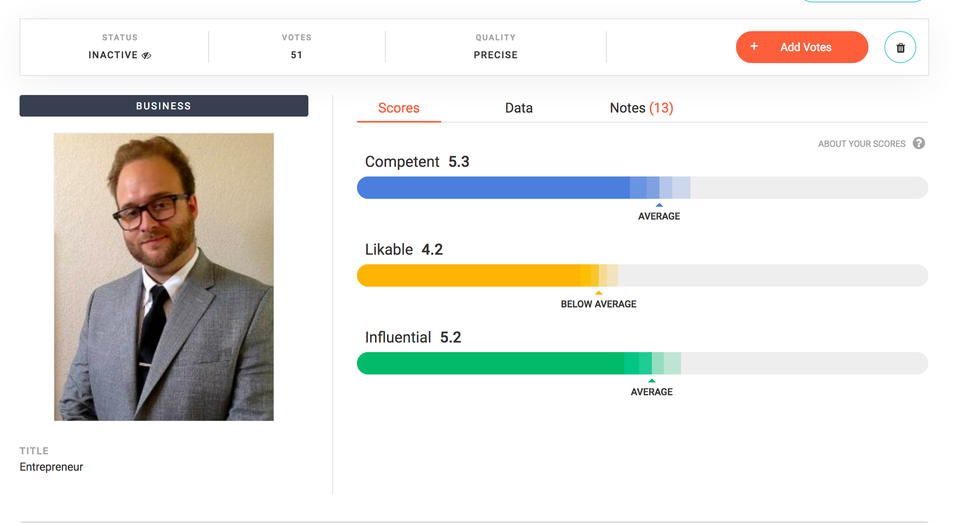 Photo Feeler allows fellow users to judge photos based on different factors
depending on the category. In this case I am comparing two headshots in the business category, users only have the image and self chosen title, "photographer" and "entrepreneur" to judge the likeability, competence and influence of the individual on the screen.

With just under 2 billion photos being taken and uploaded per day it makes sense that we are able to decipher images quickly and relatively accurately but we're still talking 20-30 seconds right? Wrong. Studies have shown it only takes 100 ms to form a judgement from an image. For reference, the blink of an eye is 3-400 ms, 3-4x slower. This means we can process 3-4 different faces and make a judgement within less than the time that it takes to blink. How accurate can a judgement made that quickly actually be? Turns out it's less about being accurate and more about your perception of accuracy. Studies have shown that this initial exposure and impression created from it is enough to make a judgement that sticks with us, to the point that if we have more time to look at the photo, we just become more confident in our initial impression. So is this judgement accurate in terms of correctly identifying the most able, or best fit for the position"? No, but the judgement you make off of it is enough to override those other concerns.
"2 billion photos being taken and uploaded per day"
Whether you are a photographer, an individual looking for a photographer or anyone that is considering getting a headshot, take the time to be deliberate and authentic with your image. You are competing against almost 2 billion other images in some way or another, and this photo, while not showcasing your latest trip to Tahiti, is going to directly influence how you pay for your next trip to Tahiti, so be proactive and keep an eye out for my next article, "3 Things You Should Know to Take a Great Headshot".